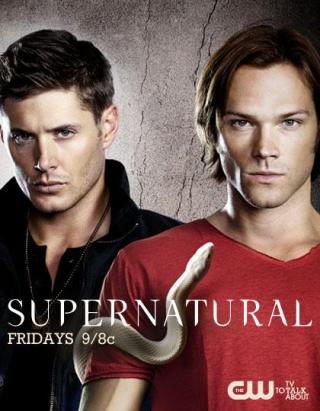 Supernatural is an American paranormal drama television series, filmed in Vancouver, Canada, that debuted on September 13, 2005 on the WB, and is now part of The CW's lineup, where the show's seventh season will premier on September 23, 2011.
The show follows brothers Sam and Dean, played by Jared Padalecki and Jensen Ackles respectively, who travel across America in a black 1967 Chevy Impala investigating and combating paranormal events and other unexplained occurrences, many of them based on American urban legends and folklore as well as classic supernatural creatures such as vampires, werewolves, and ghosts.
Characters
---
Hunters

Angels

Demons

RIP

Dean Winchester

Sam Winchester

Jo Harvelle

Bobby Singer

Ellen Harvelle

Rufus Turner

Castiel

Anna Milton

Gabriel

Balthazar

Lucifer

Zachariah

Michael

Uriel

Crowely

Lilith

Meg Masters

Ruby

Crossroad Demons(Limited)

Black-Eyed Demons(Limited)

John Winchester

Mary Winchester

Bela Talbot

Azazel

Other

Vampires

Werewolves

Lisa Braedon

Ben Braedon

Adam Milligan

Becky Rosen

Chuck Shurley

Pamela Barnes

(Coming Soon)

(Coming Soon)
Ad blocker interference detected!
Wikia is a free-to-use site that makes money from advertising. We have a modified experience for viewers using ad blockers

Wikia is not accessible if you've made further modifications. Remove the custom ad blocker rule(s) and the page will load as expected.