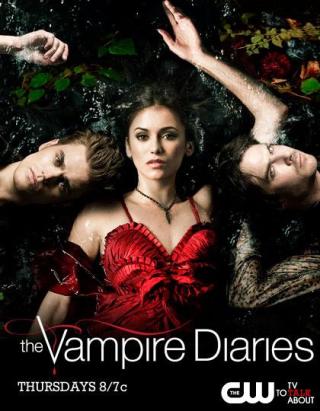 Show
---
The Vampire Diaries is an American supernatural–fantasy horror television series developed by Kevin Williamson & Julie Plec, based on the book series of the same name by L. J. Smith. The series follows the life of 17-year old Elena Gilbert (Nina Dobrev), who falls in love with a centuries old vampire named Stefan Salvatore (Paul Wesley) and quite possibly may develop feelings for his brother Damon Salvatore (Ian Somerhalder), also a vampire. The series also focuses on the lives of Elena's friends and other inhabitants of the fictional town of Mystic Falls, Virginia. The series is a mix of teen drama and the supernatural.

When The Vampire Diaries premiered on The CW Television Network on September 10, 2009, it attracted the largest audience of any series since the network began in 2006. Due to strong ratings, the series was given a full, 22-episode first season on October 21, 2009. The show's first season finale aired on May 13, 2010.

On February 16, 2010, The CW announced a renewal for a second season of the show that began airing on September 9, 2010.
Charaters
---
Vampires

Humans

Werewolves

Witches

Hybrids

Damon Salvatore
Elena Gilbert
(coming soon)
Bonnie Bennett
Klaus
Stefan Salvatore
Jeremy Gilbert
Lucy Bennett
Tyler Lockwood
Katherine Pierce
Matt Donovan
Caroline Forbes
Elizabeth Forbes
Rebekah
Carol Lockwood
Elijah




Ghost

Hunters

Deceased

Vicki Donovan
Alaric Saltzman
Jenna Sommers
Anna Johnson
Rose
Lexi
Trevor
Mason Lockwood
Jules
Pearl Johnson
Luka Martin
Greta Martin
Bree
Brady

Sarah

John Gilbert

Mikeal
Ad blocker interference detected!
Wikia is a free-to-use site that makes money from advertising. We have a modified experience for viewers using ad blockers

Wikia is not accessible if you've made further modifications. Remove the custom ad blocker rule(s) and the page will load as expected.